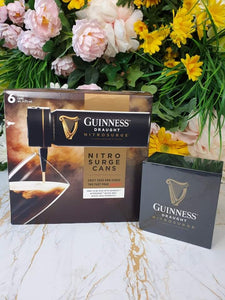 Know a Guinness lover?
This gift is PERFECT for him !!
The Guinness Surger unit and 6 Nitro Surge cans
Only a limited amount so get ordering 
The Guinness Surger uses exactly the same Guinness beer as dispensed from a keg, which is poured slowly into a Guinness glass and placed on the Surger unit. The Surger activates the gases already in the beer, creating the same creamy head as delivered by a draught dispense system.
We can even deliver this gift for you !
Www.Rhkcocktails.Com